Testimonials
Many owners of pets with behavioral issues feel isolated and alone. We have helped resolve problems in dogs, cats, horses and even birds and have restored peace of mind to the families who love them. Below are testimonials from our clients with dogs, cats, and horses. We also help birds, reptiles, and other pet animals.
Testimonials from our Clients with Dogs
Charlie
"Sometimes the challenges we face with our pets may seem overwhelming. Sometimes we feel helpless and hopeless. This was my situation with my beloved Charlie… until I found Texas Veterinary Behavior Services. Charlie was a basket case and my family was powerless to help him find peace. Charlie had a host of problems. He ripped our clothes off our bodies, barked, growled and lunged at other dogs on walks, self-mutilated when stressed, and even hallucinated frequently. He was certifiably a nutcase!
Our first day at TVBS was not great. Charlie hid under the car and refused to come out, but he finally did. In the exam room, he cowered against me and growled at everyone.
Dr. Haug and Carolyn kept us moving forward. Slowly, Charlie found stability and today my boy is happy, healthy and comfortable in his own skin. He will always be special needs… but we have found peace. And it's 100% thanks to TVBS.
TVBS is a genuine solution… not a temporary fix. Our first visit was over 3 years ago and Charlie just gets better and better with each new day. He now walks into the office confident and excited to learn new tricks. Plus we no longer have holes in our clothes!
Choosing TVBS is the best choice you will ever make. You will grow and learn as much as your pet. There is an answer to the problems you face. There is hope. TVBS is the greatest gift you can give your pet… and your family!"
~Leslie
"My Doberman, Viktor was born 1/5/2012. I brought him home at about 10 weeks old. I prepared as much as I could. I read all of the books, watched many videos, received advice from different trainers and vets in advance on what to expect with a new puppy and felt I was ready! As soon as he was old enough and all of his shots completed we enrolled in puppy training. Once that was completed we immediately started obedience classes. Later on, we started rally, but unfortunately we did not get to complete that due to his sudden change in behavior.
At about 6 months old, Viktor showed his first sign of aggression. He snapped at my spouse while he was chewing a bone on the couch next to him. This was a first and totally out of character. I made sure we were always able to approach, touch and interact with him around food to avoid this behavior. I was shocked.
Unfortunately, this was an ongoing issue that I tried to resolve many ways through suggestions from different trainers and other sources. Nothing seemed to work and his aggression seemed to start coming at unpredictable times; we thought it was resource guarding, only on anything and everything new. I thought getting him neutered earlier than I planned may help; it did not.
The guarding started getting worse and overlapped into guarding me from my spouse; and my spouse from me. We both were getting bit and we were scared. The pressure of his bites increased over time.
I was at the end of my rope. I was depressed and crying daily and afraid of my own dog. I also loved him so much, as our bond was so strong. Fortunately my boss at the time showed dogs and knew of Dr. Haug. She told me a few times to go to her and she could probably help. My spouse and I were so hesitant at first. A shrink for my dog?! Really? But, we felt we did all we could and this was our last shot and his last hope.
I cannot remember exactly when we first saw Dr. Haug. She was so good with him, and I knew that she was the one that could help, if there was help to be had for us.
Viktor is now 4.5 years old and a joy to be around. We went from seeing Dr. Haug every 3 months; every 6 months and now once a year. She was the one that found his thyroid issue which worsened his aggression triggers, but she also has given us numerous tools to avoid or improve certain behaviors. Thanks to Dr. Haug, Viktor is alive and well, and we could not be happier. She saved his life; and our sanity. We will always be thankful for her and her kind staff. They are always there for us and I know they always will be."
~Beverly and Tim
Francis
"Francis, my 135 pound mastiff was out of control. Francis was hostile to strangers, and even hostile to close family members. I could barely take him to the vet for check ups.
Thanks to Dr. Haug, Francis is like a new dog. He is calmer, more friendly, and happier. The training Dr. Haug does is positive and Francis enjoys it.
I have had several dogs and worked with a half dozen skilled dog trainers in obedience, agility, and schutzhund. I have never worked with anyone as resourceful as Dr. Haug. Her understanding of dogs is unmatched. She is truly one of the best veterinary behavior specialists in the world."
~Lawrence
"We have been working with Dr. Haug for 8 months, and I am so thrilled with the improvements in our household. We have three rescue dogs – two males and one female. Eight months ago my two male dogs began fighting with each other whenever I was in the same room with them. I could not sit down in a chair or be in the same room without them fighting over me, and I would end up getting hurt. I got bit more times than I can count. My husband was ready to get rid of our littlest male (Oppie) whom has always been a little quirky. Oppie was always territorial with me and would growl and snap if you touched him wrong. We had learned to live with that. I couldn't bear to think of getting rid of any of them so I set out to find another solution. My vet recommended Dr. Haug. She came to our home to meet with us and assess our situation. She was very thorough and extremely knowledgeable about dog behavior. She gave us hope that things could be better though it would take dedication and time.
Dr. Haug explained the dynamics and reasons for the aggression and we developed a plan of action. We started by keeping them separated and working with each dog on simple commands and relaxation exercises. Each home visit she would observe the progress that we had made and teach us another level of behavior modification techniques. In between visits Dr. Haug and her assistant were always available to answer questions and provide advice about any issues that arise (and they do). After working on a lot of the basics, we began to work on bringing out dogs together. During our last home visit, I was sitting in a chair with all three dogs lying calmly at my feet which was TRULY AMAZING. We are still working with Dr. Haug, however; I cannot believe the progress we have made. I have had all three of my dogs together without leashes all weekend. I know the signs to look for so that I can intervene and "stop" issues before they get out of control. We honestly feel like Dr. Haug has restored harmony in our household and has given us back our life. Things are even better than life before the aggression started.
We just didn't know what we didn't know back then….now I know that it was me that needed to be trained and that my dogs are thriving because of it! I only wish I would have sought out Dr. Haug a long time ago. It has been worth every penny and the hard work and time spent really do pay off. We couldn't be more thrilled!!
I would recommend Dr. Haug to ANYONE who was having any issues with their pets regardless how small or big. She is EXCELLENT!!"
~Paula and Gus
"Kelly was at San Antonio Animal Control, then Gold Ribbon Rescue. There were several foster homes, but despite her sweet nature, no one could manage Kelly's amazing energy level. She paced constantly and was never, ever still. After several months, we realized that she was not a typical "high drive" dog—Kelly's behavioral issues were far more serious and complex.
We took Kelly to her first obedience class, and the instructor warned us, "Don't expect too much from this dog." Kelly disrupted our entire household with her hyperactive behavior, fear aggression, and pack order issues. Kelly guarded everything—toys, food, even poop and vomit. If another dog got sick, she attacked them to get the vomit. She was an incorrigible poop eater. If we tried to pick up behind her, she would rear up on her back legs, growl and glare at us menacingly so that she could get at it. Kelly's favorite game was "keep-away"–especially with laundry. If we dropped a sock or some other small item, she would run away with it. And, if we tried to retrieve it, she would swallow it whole just to keep us or the other dogs from getting it. Kelly also fought with some of our other dogs and would go crazy in her crate during feeding time if other dogs were anywhere around.
It was clear to us that Kelly needed both medication and behavioral modification or she would not survive. We were desperate for help because we could not face the idea of having to euthanize this otherwise sweet, wonderful dog. Fortunately, we found Dr. Haug, who is uniquely qualified, to work with us. Initially, we were concerned about working with a behavioral specialist that was a 3-hour drive away, but the working relationship proved to be extremely successful. Dr. Haug followed our efforts and Kelly's progress with genuine interest and concern. Every telephone call and e-mail was promptly answered, and we always felt that Kelly's needs were met.
Dr. Haug helped us to understand Kelly's lack of impulse control and her hyperkinetic behavior. She taught us calming techniques and how to work towards modifying Kelly's erratic behavior. She also prescribed the proper medication to assist Kelly in becoming calmer and more focused so that she could learn. These efforts along with time, patience and love, have resulted in Kelly becoming the best behaved dog in our household.
The improvements in Kelly's behavior have also allowed her to reach her potential as an outstanding canine athlete. She is a regular participant in dog agility competitions and has now earned AKC's highest agility title, Master Agility Champion (MACh.). This accomplishment would not have been possible without Dr. Haug's help. But most importantly, Kelly is a safe, loved and very happy dog."
~Kathy and Angie
"I consulted with Dr. Haug about a 6 months ago regarding my dog who panicked when there were too many people or dogs moving around. She also started to shy away from people she knew. In classes she started to shut down and I eventually stopped taking her to class altogether.
However, even taking her out of 'scary situations', I did not make progress with straight behavior modification and decided after a year and a half of failed attempts on my own to work alongside a veterinary behaviorist. I chose Dr. Haug because she has experience with pharmacology plus practical experience with behavior modification and training.
Needless to say, her consult and choices for my 'Bean' were so right on I can only say I have a 'different dog' altogether. We started her on a drug regimen that supported behavior modification.
She is once again the puppy I brought home at 9 weeks. She is 90% better in crowds and has started to play and look for affection from me and solicits attention from people again. Now we are successful with training!
Dr. Haug was always available for questions during the whole treatment which helped me make effective choices along the way! Thank you so much. I have my little 'Bean' back again."
–Elissa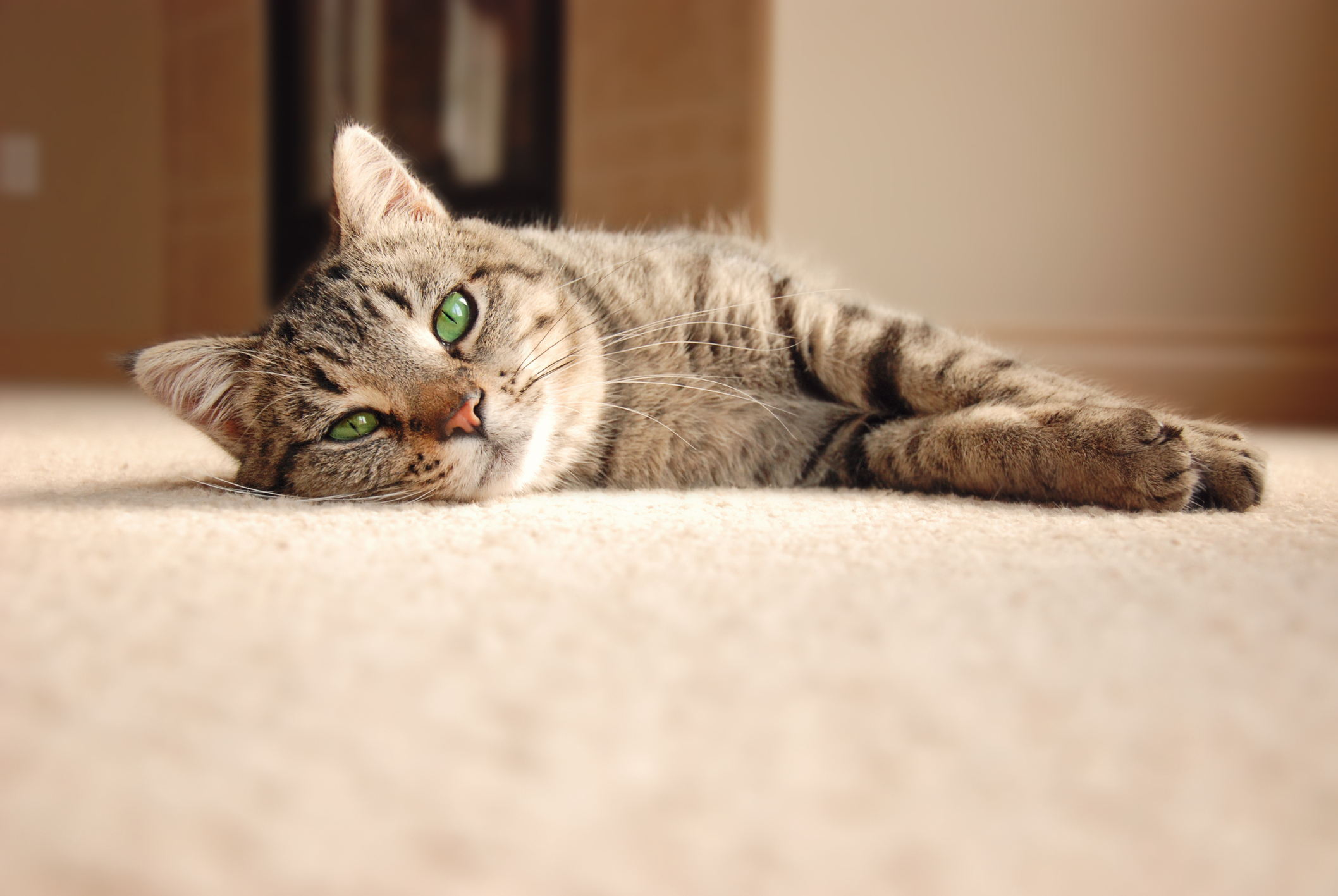 Testimonials from our clients with cats
I adopted Gigi about six years ago from a shelter and fell in love. I knew the instant she kneaded on my neck and nuzzled in my ear that she would make my new home complete. From a young kitten, she often showed little tolerance for others. But she had not actively and aggressively stalked anyone. Something about our interaction one particular day caused her to snap. It was a day when the apple of my eye turned on me and began to behave aggressively and stalk me (and my friends).
I was in shock and desperate to help her. A few suggested that I put her down, that her aggression would return and I should not be fearful in my own home.
Two independent vets recommended Dr. Haug. I was desperate and willing to try anything. It was the most important call I had ever made.
We scheduled a house call because I did not want escalate her anxiety and did not think I would be able to crate her. Dr. Haug was amazing! She worked extensively with me on how to deal with her aggression. After repetition of her techniques, and learning how I can react more conducive to de-escalating her aggression, Gigi's improvement has been nothing short of a miracle!
Reaching out to Dr. Haug was one of the best decisions I have ever made. She saved my baby and helped us work through a very challenging time. Dr. Haug often emailed to check on her progress and help me alter my responses as needed. She helped us every step of the way to help Gigi achieve a happy, healthy state of mind!
With sincere gratitude,
Cindy
sugar cookie
Sugar Cookie is doing great. We haven't had any attacks for months. We've had a few close calls (two or three) when we were rushing out of the house in the morning and didn't have enough time to play hard…but that was our fault! Sugar has his own fish tank in the kitchen. I've attached a picture of him watching his fish. He also likes to be carried around the house and even take naps with us on the sofa.
Thank you so much for everything!!!!
Stacy
Java
We've completed our litter preference test and Java still hasn't had any accidents since we took your suggestions. She clearly prefers clay litter to the natural litter and after daily litter cleanings so do I. The natural litter had a much stronger smell and more dust. As the days progressed it became moist. I had to throw it out a couple nights ago, so since then Java has been down to one litter box with the Tidy Cats Premium Scoop for Multiple Cats Small Spaces. We've been playing daily. My parents and I went to the annual cat show last weekend and they bought her a Hot Cats cat nip toy that she's really enjoying. As you know, she loves rubbing on cat nip toys. Thank you so much for restoring calm to our household and reconnecting us. Very well worth it. I'm impressed at how such minor changes have made such a big difference.
Thank you, thank you, thank you!
~Dorothy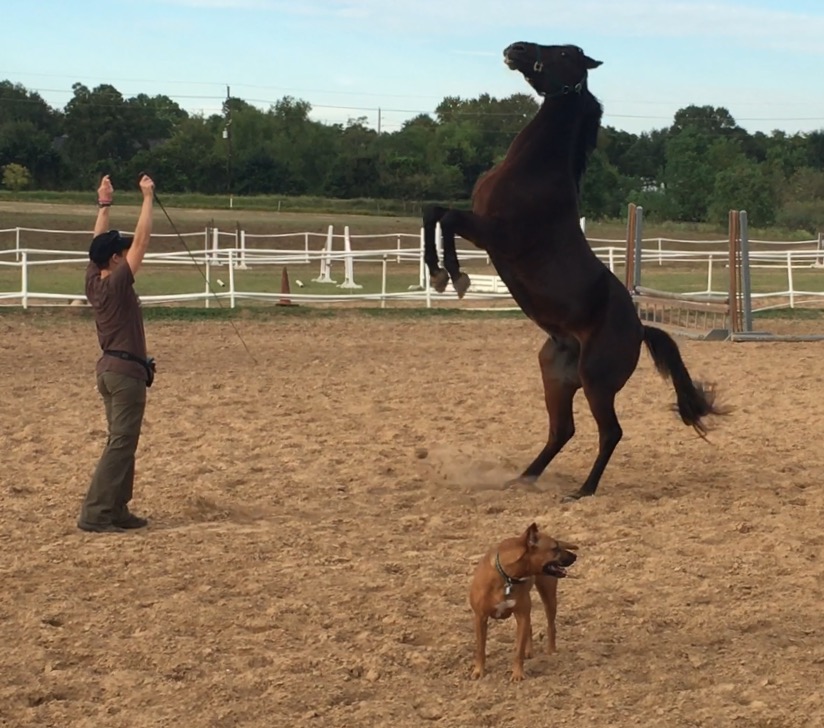 Testimonials from clients with horses
I would highly recommend Lore Haug to train any animal I owned, knowing that she uses a safe, non-aggressive approach to "enhance animal behavior" so that humans and animals can co-exist in harmony. I say this because she has helped me so much with my horse, Bessie. I am new to horse ownership, but anyone who owns a horse, whether it's been for 3 months or over 10 years, would benefit from the training techniques Dr. Haug uses. Understanding horse behavior and language has been a challenge for me and from what I have witness of others and their horses, it is a challenge for a lot of us. Dr. Haug is a proponent of positive reinforcement (e.g. clicker training") which really unlocks the door to learning in the animals. I would not want to be hit with a crop or yelled at and I'm sure my horse doesn't either. Dr. Haug has helped me understand why my horse behaves the way she does. I feel that every time I go out to the barn Bessie and I learn something new and exciting. Since Dr. Haug is also a veterinarian she was able to see a slight lameness in my horse that one else had pick up on before. She is very passionate about her work with animals and I would recommend her to any horse owner and lover that wants to find ways to cure equine behavioral problems or just wants a better relationship with their horse.
Dr. Haug is a highly skilled veterinarian and trustworthy professional that can help with any animal companion issues you might be having. Her safe and intellectual approach to training and addressing behavior issues benefit any animal she works with. The work she has done with Chisholm, my senior rescue horse, has changed both of us for the better. Positive reinforcement (i.e. Clicker training) has challenged Chisholm and I, and transformed my horse into a more confident, trusting companion. Her veterinary skill set allows for a solid evaluation of both the physical and mental state of any animal. As an amateur horsewoman and owner, I have enjoyed the lessons she taught, and she broadened my knowledge of horses as well as their basic psychology, helping me keep Chisholm happy and healthy. I finally understand Chisholm's behavior and feel equipped to shape the behavior I want. Her love for animals and determination to leave them better than she found them makes her an excellent behaviorist and someone I would highly recommend to those looking to learn and fix companion issues.
-Trinity